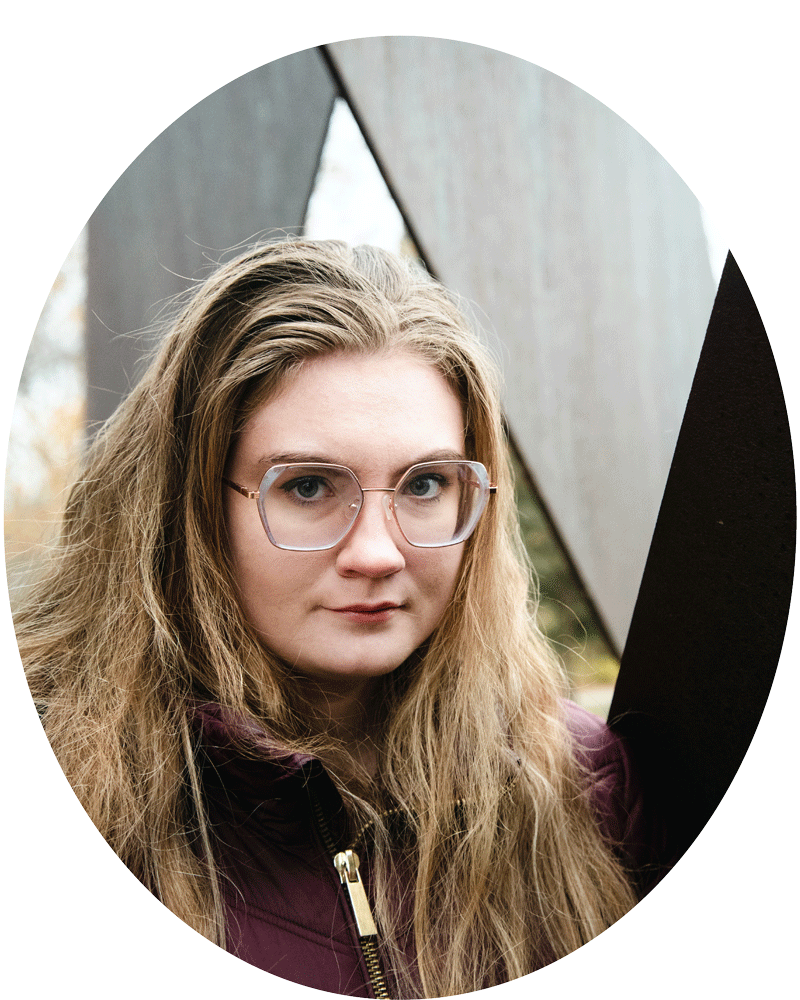 Abbagail Koch
Graphic Designer | INTP
Abbagail Koch is a graphic designer that has central focus in print and digital design. She prides herself on her passion of knowledge, versatility in design skills, and ability to grow from criticism. 
While she isn't designing, Abbagail spends her time with her loving partner and three kitties, enjoying a fun movie.
Amcon Laboratories
Our corporate mission is to provide our customers with the highest quality products available, at great prices, delivered with superior service.
Position –  Graphic Designer
St. Louis, MO | September 2022 – Current
• Redesigned previous template for bi-flyer, branding elements, and social media banners
• Designed 2023 print/digital catalog with branded section icons,along with expo trays for upcoming vision expo
• Collaborate with purchasing for product information and decisions applied to print media
• Create templated designs for custom imprinting based upon clients request
• Develop designs for web banners, email marketing and social media.
neat + nimble
Building brands one moment at a time.
We help small teams build big brands through consistency in design and marketing.
Position – (Remote) – Graphic Designer
Hermann, MO|March 2021 – August 2022
• Collaborate with Lead Designer/Owner on designing WordPress websites using the Divi Theme according to client contract and design needs
• Ad designs, periodicals, social media assets, posters, handbills, brochures, rack cards, and stickers using Adobe Suite according to the design process and client request
• Schedule Social media, using the Hoot suite and gathered assets using Airtable
• Communicate with printers to gather quotes, and templates as needed, and problem solve project files to function with printing parameters
Bayer
Position – (Remote) – Contract Graphic Designer
St. Louis, MO|September 2021 – February 2022
• Laid out seasonal agricultural articles according to design guidelines
• Utilized Microsoft and Trello as a means of communication and teamwork in the Knowledge Transfer Department
• Researched and designed agricultural infographics for customer knowledge
Pure Perfection Candles
Our candles are curated by our team to bring the best-smelling aroma to fill the home. Who says home fragrance can't be safe too? Pure Perfection Candles are hand poured with our custom blend of natural waxes and fine fragrances. We offer a product that's non-toxic, slow burning, and will bring comfort to any home.
Position – Seasonal Assistant Manager/Designer
Des Peres, MO | September – December 2021 
• Designed store front banners with gathered freely-usable photos using Photoshop and InDesign
• Illustrated private label candle designs using Procreate and Illustrator
• Developed multi-platform social media posts for store events
• Taught candle-making classes, while providing customer service to all stores customers
Northeast Ohio Weddings Magazine
We believe that EVERYONE getting married should be fully, joyously celebrated, so jump in and enjoy!
Position – (Remote) Graphic Design Intern
Cleveland, OH |  January – April 2021
• Gathered materials, then designed assigned spreads for Spring/Summer 2021 issue
• Collaborated with copywriters to find resources for articles and inspirational words to develop the layouts
• Created a social media sponsors campaign for the upcoming bridal show on Instagram
Nova Corp Group
Position – (remote) – Graphic Design Intern
Miami, Florida| January – May 2021
Graphic Design Intern
Created ad designs using Adobe Illustrator and InDesign according to the client's request
Respected brands' pre-existing guidelines, while gathering materials and designing layouts
Saint Louis Art Fair
Position – (Remote) Freelance Graphic Designer
Clayton, MO | September – October 2019
• Designed the layout of the 2019 report summary using the previously developed theme by utilizing gathered assets and Adobe Suite
Position – Graphic Design Intern
Clayton, MO | May – September 2019
• Developed 2019 art fair visual aesthetic using inspiration from the artist participating at the fair and designed all print media used during the fair weekend
• Established the printing specifications and coordinated with the externals printers